PC 461-class

This patrol craft was one of many built in order to take on the German U-boat threat, but they also served in the Pacific with great success. One of these ships, the PC 468 was turned over to the RNN as a personal gift of President Roosevelt. On his suggestion, the ship was named Queen Wilhelmina, and commissioned in August 1942 in both the presence of the American President as the Dutch Queen.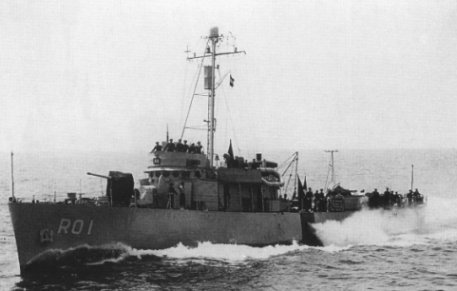 Queen Wilhelmina post war (Collection O. van Hoften)

Construction details
Name
Queen Wilhelmina ( ex-PC 468 )
Dockyard
George Lawley & Sons, Neponset, Massachusetts.
Laid down
January 1 1942
Launched
April 30 1942
Commissioned
August 6 1942
Pennant nos
PC-468
PO-1
RO-1
HE-1
P-14
P-801
Specifications
Displacement
280 t / 335 t
Crew
52
Dimensions
52,96 x 7,01 x 2.2 m
Armament
1 x 76 mm/50 HA/LA Mk 22
1 x 40 mm Bofors
5 single 20 mm Oerlikon
ASW
Sonar
1 double mousetrap
3 rails
3 throwers
Radar
SG (?)
Propulsion details
Machinery
2 Fairbanks Morse dieselengines *
Performance
2880 hp
Shafts
2
Bunkerage
60 tons oil
Range
3000 nm @ 12 knots
Max Speed
19-20 knots
* Built by dockyard
History
To Curaçao in October 1942. To Trinidad in February 1943, but returned to her homebase shortly after. October 1944 to Miami for maintenance. February 1945, maintenance completed and prepared for crossing of the Atlantic. Arrival in Plymouth in March 1945. Retroceded to Holland post-war, and served as fishery inspection vessel. She was prepared for transfer to the Nigerian Navy in early 1963 to serve as a training vessel for the crew of a newly ordered ship. Transferred to the Nigerian Navy on July 26 1963 and renamed "Ogoya". She was given to Nigeria on September 16 1965. Sunk as Ogoya in October 1969.

Around June 19 1944, the ship rescued two American aviatiors north of Curaçao. On July 8 1944, Queen Wilhelmina rescued 31 survivors from the tanker Esso Harrisburg, sunk by U-516 on the 6th.