Artillery Instruction Ship Van Kinsbergen

This sloop was meant to replace the old cruiser Gelderland in her duties to train gunners and fire control personnel for the fleet, and also to replace the sloop Johan Maurits van Nassau when the latter was in need of repair or refit in Holland. In May 1940, the ship was in the Dutch West Indies, and served with the British America and West Indies station. After the outbreak of war between the United States and Germany, submarines started to prowl the sealanes, and Van Kinsbergen was pressed into service as an escort vessel, for which she was not really suited. As such, she however served well, and survived the war.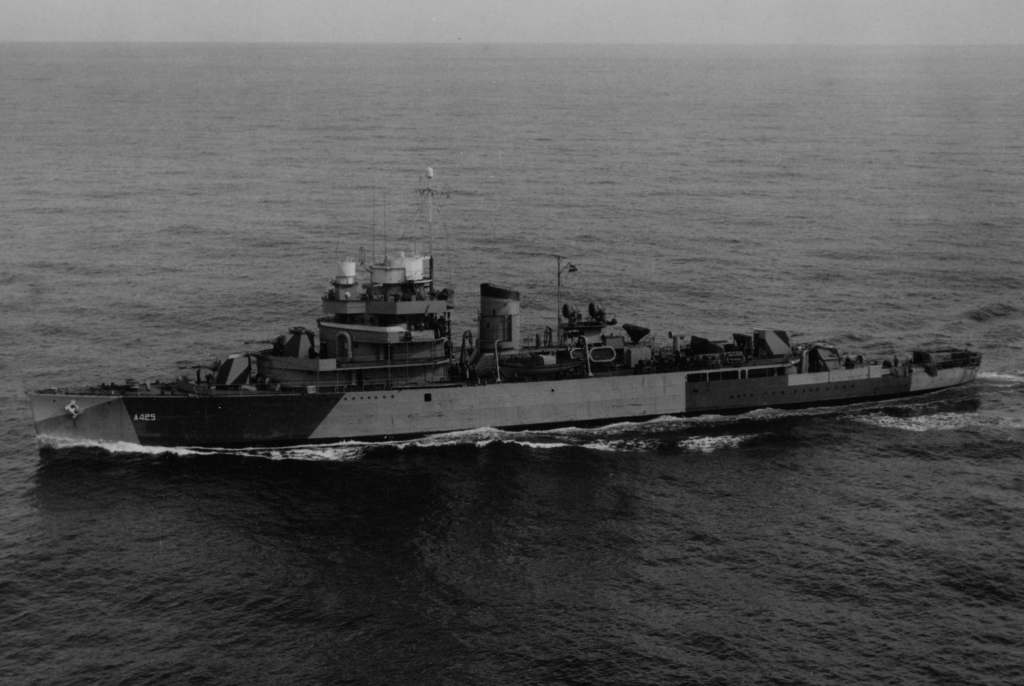 Van Kinsbergen at sea in October 1944. (Collection National Archives, Washington, USA)
Construction details
Name
Van Kinsbergen
Dockyard
Rotterdamsche Droogdok Mij, Rotterdam
Dockyard number
201
Authorized
December 10, 1936
Laid down
September 11, 1937
Launched
January 5, 1939
Commissioned
August 24, 1939
Status
Detailed history
Pennant nos
U-93 (WW II)
K.425 (WW II)
N-3 (May 1945)
F-804 (Oct. 1950)
A-876 (Nov. 11 1955)
Specifications
Displacement (standard/full)
1760 / 2388 tons
Crew
183 (increased to 220)
Dimensions
100,2 x 11,6 x 3,4 m
Armament (as completed)
4 x 120 mm No.6
4 x 40 mm Bofors
4 x .50 MG
2 x 75 mm training guns
Alterations during WW II
2 x 40 mm Bofors removed
1 x 75 mm removed
4 x 20 mm Oerlikon added.
Armament since 1951*
2 x 105 mm HA/LA
4 x 40 mm
2 x 20 mm
Radar
British Royal Navy Type 271 (surface warning) added 1942
United States Navy Type SF added 1944
ASW
1940:
depth charge racks added
1942:
8 depthcharge mortars added
new racks added for 52 depthcharges
Type 128 C asdic added
1945:
2 mouse-traps added **
* One source says this change in armament occured in 1941. Photo evidence however shows that her weaponry did not change until her reclassification to frigate.
** Mousetraps were basically racks with rockets, which could be fired to an area ahead of the ship (in the same manner as the more successful "Hedgehog"). These projectiles would sink and detonate on contact with a submarine or at a certain depth. The original Hedgehog projectiles were used, but with a slow-burning propellant. I presume Van Kinsbergen had a Mk. 22 set, which means two racks with rails for four projectiles each.
Propulsion details
Boilers
2 Yarrow
Machinery
2 Stork geared turbines
Performance
17000 hp
Max speed
25,5 knots
Bunkerage
696 tons oil
Range
5790 nm @ 14,5 knots
7228 nm @ 8 knots
Shafts
2
Last updated December 14, 2004